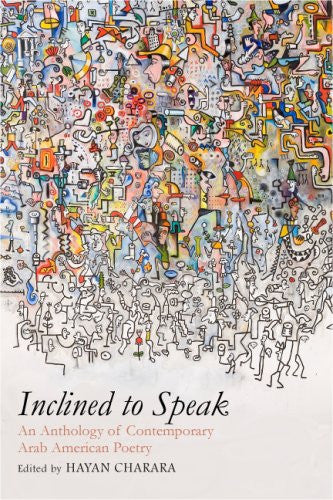 Inclined to Speak: An Anthology of Contemporary Arab American Poetry by Hayan Charara
At no other time in American history has our imagination been so engrossed with the Arab experience. An indispensable and historic volume, Inclined to Speak gathers together poems, from the most important contemporary Arab American poets, that shape and alter our understanding of this experience. These poems also challenge us to reconsider what it means to be American. Impressive in its scope, this book provides readers with an astonishing array of poetic sensibilities, touching on every aspect of the human condition. Whether about culture, politics, loss, art, or language itself, the poems here engage these themes with originality, dignity, and an unyielding need not only to speak, but also to be heard.

Here are thirty-nine poets offering up 160 poems. Included in the anthology are Naomi Shihab Nye, Samuel Hazo, D. H. Melhem, Lawrence Joseph, Khaled Mattawa, Mohja Khaf, Matthew Shenoda, Kazim Ali, Nuar Alsadir, Fady Joudah, and Lisa Suhair Majaj. Charara has written a lengthy introduction about the state of Arab American poetry in the country today and short biographies of the poets and provided an extensive list of further readings.
Year: 2008
Paperback