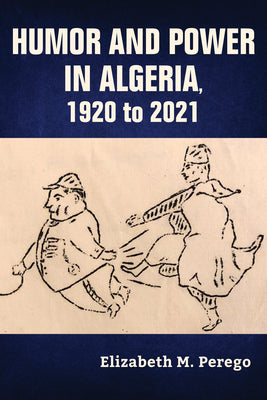 Humor and Power in Algeria, 1920 to 2021 by Elizabeth M. Perego
In times of peace as well as conflict, humor has served Algerians as a tool of both unification and division. Humor has also assisted Algerians of various backgrounds and ideological leanings with engaging critically in power struggles throughout the country's contemporary history. By analyzing comedic discourse in various forms (including plays, jokes, and cartoons), Humor and Power in Algeria, 1920 to 2021 demonstrates the globally informed and creative ways that civilians have made sense of moments of victory and loss through humor. Using oral interviews and media archives in Arabic, French, and Tamazight, Elizabeth M. Perego expands on theoretical debates about humor as a tool of resistance and explores the importance of humor as an instrument of war, peace, and social memory, as well as a source for retracing volatile, contested pasts.

Humor and Power in Algeria, 1920 to 2021 reveals how Algerians have harnessed humor to express competing visions for unity in a divided colonial society, to channel and process emotions surrounding a brutal war of decolonization and the forging of a new nation, and to demonstrate resilience in the face of a terrifying civil conflict.
Year:2023
Paperback