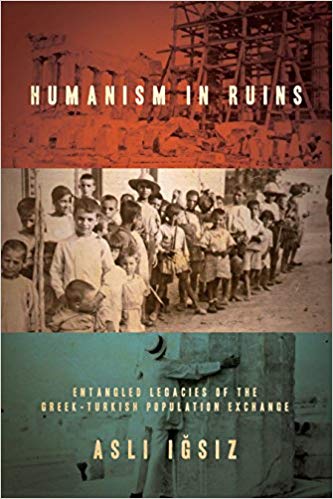 Humanism in Ruins: Entangled Legacies of the Greek-Turkish Population Exchange by Asli Igsiz
The 1923 Greek-Turkish population exchange forcibly relocated one and a half million people: Muslims in Greece were resettled in Turkey, and Greek Orthodox Christians in Turkey were moved to Greece. This landmark event set a legal precedent for population management on the basis of religious or ethnic difference. Similar segregative policies―such as creating walls, partitions, and apartheids―have followed in its wake. Strikingly, the exchange was purportedly enacted as a means to achieve peace.
Humanism in Ruins maps the links between liberal discourses on peace and the legacies of this forced migration. Aslı Iğsız weaves together past and present, making visible the effects in Turkey across the ensuing century, of the 1923 exchange. Liberal humanism has responded to segregative policies by calling for coexistence and the acceptance of cultural diversity. Yet, as Iğsız makes clear, liberal humanism itself, with its ahistorical emphasis on a shared humanity, fails to confront an underlying racialized logic. This far-reaching and multilayered cultural history investigates what it means to be human―historically, socially, and politically. It delivers an urgent message about the politics of difference at a time when the reincarnation of fascism in different parts of the world invites citizens to participate in perpetuating a racialized and unequal world.
Year: 2018
Paperback