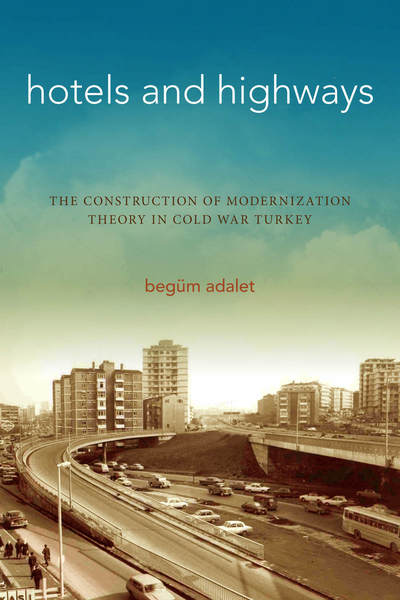 Hotels and Highways The Construction of Modernization Theory in Cold War Turkey by Begüm Adalet
Winner of the 2018 Choice Award for Outstanding Academic Title, sponsored by the American Library Association.
The early decades of the Cold War presented seemingly boundless opportunity for the construction of "laboratories" of American society abroad: microcosms where experts could scale down problems of geopolitics to manageable size, and where locals could be systematically directed toward American visions of capitalist modernity. Among the most critical tools in the U.S.'s ideological arsenal was modernization theory, and Turkey emerged as a vital test case for the construction and validation of developmental thought and practice.
With this book, Begüm Adalet reveals how Turkey became both the archetypal model of modernization and an active partner for its enactment. Through her analysis of the flow of aid money and expertise between the U.S. and Turkey, the planning of the American-funded Turkish highway network, and the development of the Turkish tourism industry, Adalet also highlights how "problems of knowledge" are fundamentally entwined with "problems of the political order": social scientific theories are produced in material spaces, through uncertain encounters between transnational actors and policy networks. In tracking the growth and transmission of modernization as a theory and in practice in Turkey, Hotels and Highways offers not only a specific history of a postwar development model that continues to influence our world, but a widely relevant consideration of how theoretical debates take shape in concrete situations.
Year: 2018
Paperback