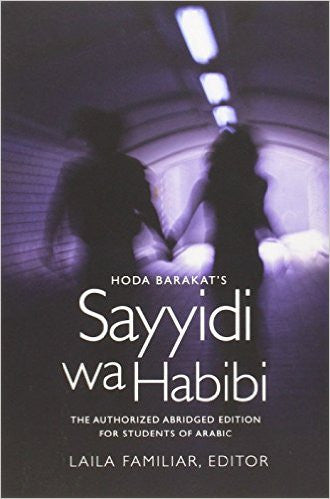 Hoda Barakat's Sayyidi wa Habibi: The Authorized Abridged Edition for Students of Arabic Abridged Edition Edition by Hoda Barakat
Sayyidi wa Habibi (My Master and My Love) is a novel by acclaimed Lebanese author Hoda Barakat, abridged in this volume for learners of Arabic at the advanced low proficiency level. Designed as a supplementary text that adds variety and fun to a regular course on Arabic, it is complete with exercises that guide learners through the story and help them improve their Arabic skills, introducing learners of the language to the world of contemporary Arabic literature and improving their knowledge of Arabic culture.

Set against the backdrop of the Lebanese Civil War, this intriguing novel relates the struggles of Wadie, a young man who leaves school and becomes corrupted by crime, and his wife, Samia, who flees with him to Cyprus. Universal questions of existence are masterfully portrayed through eloquent prose that keeps readers engaged until the last line. Laila Familiar provides introductory materials, a short biography of the author, and exercises that develop linguistic and cultural competencies. Audio files of Barakat reading five passages from the work, along with a recorded interview, are available free on the press website in order to help students improve their listening skills.

This authorized version of the abridged text of Sayyidi wa Habibi will be warmly embraced by college and university students of Arabic as well as by independent learners.
Year: 2013
Paperback