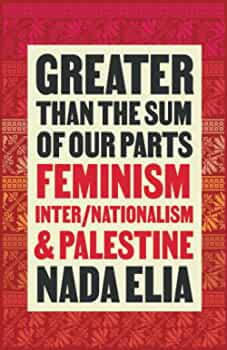 Greater Than the Sum of Our Parts: Feminism, Inter/Nationalism, and Palestine by Nada Elia
An inspiring and intersectional re-imagining of the path to liberation in Palestine
'The book our movements deserve. Crafted from decades of transnational activism, Nada Elia brilliantly weaves together the challenges of our time and the political frameworks necessary to overcome them'
Noura Erakat, Associate Professor at Rutgers University, New Brunswick in Africana Studies and the Program in Criminal Justice
'Nada Elia's Greater than the Sum of Our Parts is an inspiring call to action that deconstructs the many oppressive systems we currently find ourselves struggling against, and shows us the way forward.'
Adam Horowitz, Executive Editor at Mondoweiss
'I am so grateful that a book such as "Greater Than the Sum of Our Parts" finally exists! Reading it felt like drinking cold water on a parched day. The writing is bold and brave, the analysis clear-sighted and unflinching. And yet somehow, on top of all this--the book is full of heart, fierce love and radical empathy. A must read.'
Jen Marlowe, author of I Am Troy Davis and The Hour of Sunlight
How is the struggle for Palestinian freedom bound up in other freedom struggles, and how are activists coming together globally to achieve justice and liberation for all?
In this bold book, Palestinian activist Nada Elia unpacks Zionism, from its hyper militarism to incarceration, its environmental devastation, and gendered violence. She insists that Palestine's fate is linked through bonds of solidarity with other communities crossing racial and gender lines, weaving an intersectional feminist understanding of Israeli apartheid throughout her analysis. She also looks deeper into the interconnectedness of Palestine with Black, migrant, and queer movements, and with other indigenous struggles against settler colonialism, including that of Native Americans.
Greater than the Sum of Our Parts is a powerful and hopeful account, highlighting the role of the Palestinian diaspora, youth, and women, and inspired by activists across the world.
Year: 2023
Paperback