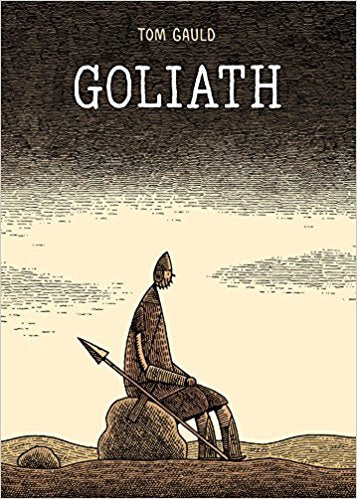 Goliath by Tom Guald
Tom Gauld's debut graphic novel retelling of a classic myth, now in paperback
Since the 2011 release of Goliath, Tom Gauld has solidified himself as one of the world's most revered and critically-acclaimed cartoonists working today. From his weekly strips in The Guardian and New Scientist, to his lauded graphic novels You're All Just Jealous of My Jetpackand Mooncop, Gauld's fascination with the intersection between history, literary criticism, and pop culture has become the crux of his work.
Now in paperback, with a new cover and smaller size, Goliath is a retelling of the classic myth, this time from Goliath's side of the Valley of Elah. Goliath of Gath isn't much of a fighter. He would pick admin work over patrolling in a heartbeat, to say nothing of his distaste for engaging in combat. Nonetheless, at the behest of the king, he finds himself issuing a twice-daily challenge to the Israelites: "Choose a man. Let him come to me that we may fight."
Quiet moments in Goliath's life as an isolated soldier are accentuated by Gauld's trademark drawing style: minimalist scenery, geometric humans, and densely crosshatched detail. Simultaneously tragic and bleakly funny, Goliath displays a sensitive wit and a bold line―a traditional narrative reworked, remade, and revolutionized into a classic tale of Gauld's very own.
Year: 2017
Paperback