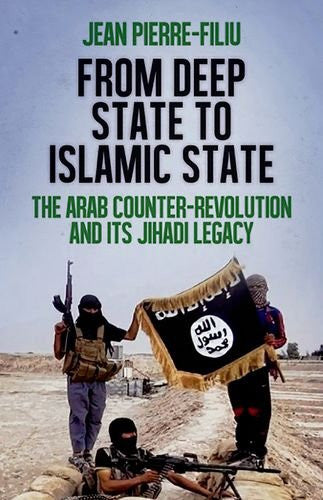 From Deep State to Islamic State: The Arab Counter-Revolution and its Jihadi Legacy by Jean-Pierre Filiu
In his disturbing and timely book Jean-Pierre Filiu lays bare the strategies and tactics employed by the Middle Eastern autocracies, above all those of Syria, Egypt, Yemen and Algeria, that set out to crush the democratic uprisings of the 'Arab Revolution.'

In pursuit of these goals they turned to the intelligence agencies and internal security arms of the 'deep state,' the armed forces, and to street gangs such as the Shabiha to enforce their will. Alongside physical intimidation, imprisonment and murder, Arab counter-revolutionaries discredited and split their opponents by boosting Salafi-Jihadi groups such as Islamic State. They also released from prison hardline Islamists and secretly armed and funded them.

The full potential of the Arab counter-revolution surprised most observers, who thought they had seen it all from the Arab despots: their perversity, their brutality, their voracity. But the wider world underestimated their ferocious readiness literally to burn down their countries in order to cling to absolute power. Bashar al-Assad clambered to the top of this murderous class of tyrants, driving nearly half of the Syrian population in to exile and executing tens of thousands of his opponents. He has set a grisly precedent, one that other Arab autocrats are sure to follow in their pursuit of absolute power.
Year: 2015
Hardcover