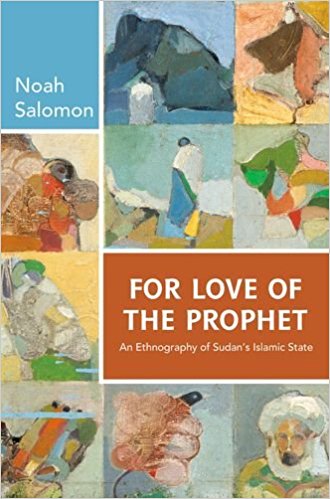 For Love of the Prophet: An Ethnography of Sudan's Islamic State by Noah Salomon
For some, the idea of an Islamic state serves to fulfill aspirations for cultural sovereignty and new forms of ethical political practice. For others, it violates the proper domains of both religion and politics. Yet, while there has been much discussion of the idea and ideals of the Islamic state, its possibilities and impossibilities, surprisingly little has been written about how this political formation is lived. For Love of the Prophet looks at the Republic of Sudan's twenty-five-year experiment with Islamic statehood. Focusing not on state institutions, but rather on the daily life that goes on in their shadows, Noah Salomon's careful ethnography examines the lasting effects of state Islamization on Sudanese society through a study of the individuals and organizations working in its midst.
Salomon investigates Sudan at a crucial moment in its history―balanced between unity and partition, secular and religious politics, peace and war―when those who desired an Islamic state were rethinking the political form under which they had lived for nearly a generation. Countering the dominant discourse, Salomon depicts contemporary Islamic politics not as a response to secularism and Westernization but as a node in a much longer conversation within Islamic thought, augmented and reappropriated as state projects of Islamic reform became objects of debate and controversy.
Among the first books to delve into the making of the modern Islamic state, For Love of the Prophet reveals both novel political ideals and new articulations of Islam as it is rethought through the lens of the nation.
Year: 2016
Paperback