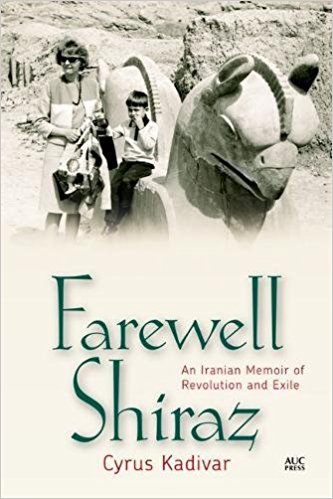 Farewell Shiraz: An Iranian Memoir of Revolution and Exile by Cyrus Kadivar
In October 1999 during a trip to Cairo, Cyrus Kadivar, an exiled Iranian living in London, visited the tomb of the last shah and opened a Pandora's box. Haunted by nostalgia for a bygone era, he recalled a protected and idyllic childhood in the fabled city of Shiraz and his coming of age during the 1979 Iranian revolution. Back in London, he reflected on what had happened to him and his family after their uprooting and decided to conduct his own investigation into why he lost his country. He spent the next ten years seeking out witnesses who would shed light on the last days of Pahlavi rule. Among those he met were a former empress, ex-courtiers, disaffected revolutionaries, and the bereaved relatives of those who perished in the cataclysm. 
In Farewell Shiraz, Kadivar tells the story of his family and childhood against the tumultuous backdrop of twentieth-century Iran, from the 1905-1907 Constitutional Revolution to the fall of Mohammad Reza Shah Pahlavi, before presenting accounts of his meetings with key witnesses to the Shah's fall and the rise of Khomeini. Each of the people interviewed provides a richly detailed picture of the momentous events that took place and the human drama behind them. 
Combining exquisite vignettes with rare testimonials and first-hand interviews, Farewell Shiraz draws us into a sweeping yet often intimate account of a vanished world and offers a compelling investigation into a political earthquake whose reverberations still live with us today.
Year: 2017
Hardcover