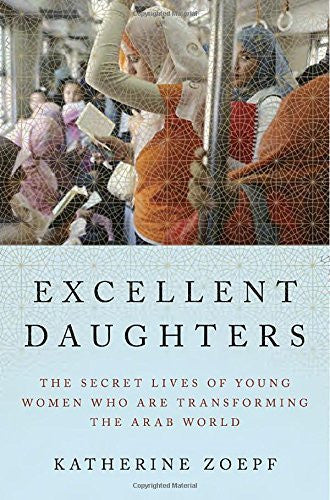 Excellent Daughters: The Secret Lives of Young Women Who Are Transforming the Arab World by Katherine Zoepf
For more than a decade, Katherine Zoepf has lived in or traveled throughout the Arab world, reporting on the lives of women, whose role in the region has never been more in flux. Only a generation ago, female adolescence as we know it in the West did not exist in the Middle East. There were only children and married women. Today, young Arab women outnumber men in universities, and a few are beginning to face down religious and social tradition in order to live independently, to delay marriage, and to pursue professional goals. Hundreds of thousands of devout girls and women are attending Qur'anic schools—and using the training to argue for greater rights and freedoms from an Islamic perspective. And, in 2011, young women helped to lead antigovernment protests in the Arab Spring. But their voices have not been heard. Their stories have not been told.

In Syria, before its civil war, she documents a complex society in the midst of soul searching about its place in the world and about the role of women. In Lebanon, she documents a country that on the surface is freer than other Arab nations but whose women must balance extreme standards of self-presentation with Islamic codes of virtue. In Abu Dhabi, Zoepf reports on a generation of Arab women who've found freedom in work outside the home. In Saudi Arabia she chronicles driving protests and women entering the retail industry for the first time. In the aftermath of Tahrir Square, she examines the crucial role of women in Egypt's popular uprising.
 
Deeply informed, heartfelt, and urgent, Excellent Daughters brings us a new understanding of the changing Arab societies—from 9/11 to Tahrir Square to the rise of ISIS—and gives voice to the remarkable women at the forefront of this change.
Year: 2016
Paperback