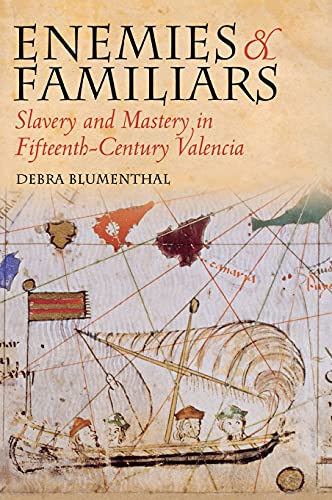 Enemies and Familiars: Slavery and Mastery in Fifteenth-Century Valencia by Debra Blumenthal
A prominent Mediterranean port located near Islamic territories, the city of Valencia in the late fifteenth century boasted a slave population of pronounced religious and ethnic diversity: captive Moors and penally enslaved Mudejars, Greeks, Tartars, Russians, Circassians, and a growing population of black Africans. By the end of the fifteenth century, black Africans comprised as much as 40 percent of the slave population of Valencia.
Whereas previous historians of medieval slavery have focused their efforts on defining the legal status of slaves, documenting the vagaries of the Mediterranean slave trade, or examining slavery within the context of Muslim-Christian relations, Debra Blumenthal explores the social and human dimensions of slavery in this religiously and ethnically pluralistic society. Enemies and Familiars traces the varied experiences of Muslim, Eastern, and black African slaves from capture to freedom. After describing how men, women, and children were enslaved and brought to the Valencian marketplace, this book examines the substance of slaves' daily lives: how they were sold and who bought them; the positions ascribed to them within the household hierarchy; the sorts of labor they performed; and the ways in which some reclaimed their freedom. Scrutinizing a wide array of archival sources (including wills, contracts, as well as hundreds of civil and criminal court cases), Blumenthal investigates what it meant to be a slave and what it meant to be a master at a critical moment of transition.
Arguing that the dynamics of the master-slave relationship both reflected and determined contemporary opinions regarding religious, ethnic, and gender differences, Blumenthal's close study of the day-to-day interactions between masters and their slaves not only reveals that slavery played a central role in identity formation in late medieval Iberia but also offers clues to the development of "racialized" slavery in the early modern Atlantic world.
Year: 2009
Hardcover
Condition: Very Good