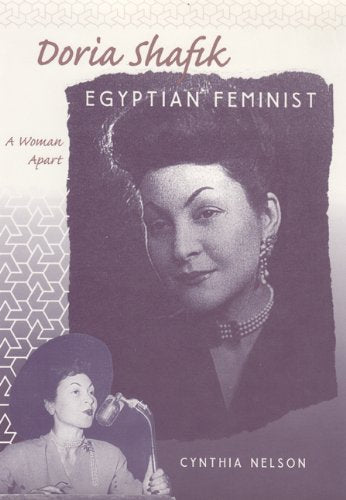 Doria Shafik, Egyptian Feminist: A Woman Apart by Cynthia Nelson
Cynthia Nelson brings to life a bold and gifted Egyptian of the mid-20th century who helped define what it means to be a modern Arab woman.
Doria Shafik (1908-1975), an Egyptian feminist, poet, publisher, and political activist, participated in one of her country's most explosive periods of social and political transformation.  During the '40s she burst onto the public stage in Egypt, openly challenging every social, cultural, and legal barrier that she viewed as oppressive to the full equality of women.  As the founder of the Daughters of the Nile Union in 1948, she catalyzed a movement that fought for suffrage and set up programs to combat illiteracy, provide economic opportunities for lower-class urban women, and raise the consciousness of middle-class university students.
She also founded and edited two prominent women's journals, wrote books in both French and Arabic, lectured throughout the world, married, and raised two children. For a decade, she ignited the imagination of the press, where she was variously described as the "perfumed leader," a "danger to the Muslim nation," a "traitor to the revolution," and the "only man in Egypt." Then, in 1957, following her hunger strike in protest against the populist regime of Gamal Abdel Nasser, she was placed under house arrest.  Within months her magazines folded, her name was officially banned from the press, and she entered a long period of seclusion that ended with her suicide in 1975.
With the cooperation of Shafik's daughters, who made available to her Shafik's three impressionistic, unpublished, and sometimes contradictory memoirs, Nelson has uncovered Shafik's story and brings the life and achievements of this remarkable woman to a Western audience.
Year: 1999 (1996)
Paperback
Condition: Very Good