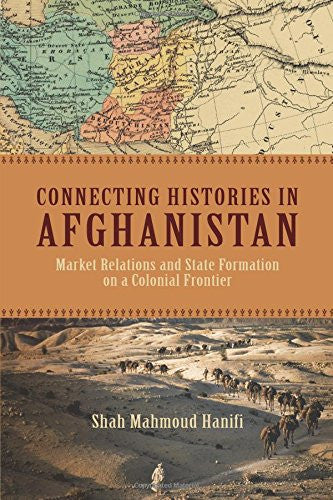 Connecting Histories in Afghanistan: Market Relations and State Formation on a Colonial Frontier by Shah Mahmoud Hanifi
Most histories of nineteenth-century Afghanistan argue that the country remained immune to the colonialism emanating from British India because, militarily, Afghan defenders were successful in keeping out British imperial invaders. However, despite these military victories, colonial influences still made their way into Afghanistan. Looking closely at commerce in and between Kabul, Peshawar, and Qandahar, this book reveals how local Afghan nomads and Indian bankers responded to state policies on trade.

British colonial political emphasis on Kabul had significant commercial consequences both for the city itself and for the cities it displaced to become the capital of the emerging Afghan state. Focused on routing between three key markets, Connecting Histories in Afghanistan challenges the overtly political tone and Orientalist bias that characterize classic colonialism and much contemporary discussion of Afghanistan.
Year: 2011
Paperback