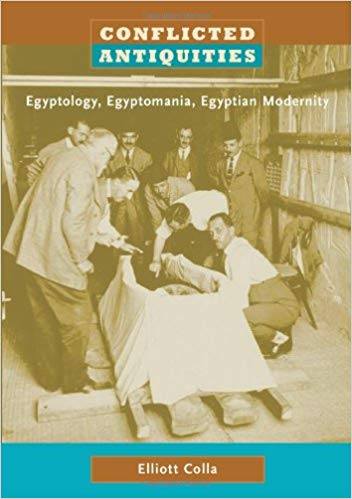 Conflicted Antiquities: Egyptology, Egyptomania, Egyptian Modernity by Elliot Colla
Conflicted Antiquities is a rich cultural history of European and Egyptian interest in ancient Egypt and its material culture, from the early nineteenth century until the mid-twentieth. Consulting the relevant Arabic archives, Elliott Colla demonstrates that the emergence of Egyptology—the study of ancient Egypt and its material legacy—was as consequential for modern Egyptians as it was for Europeans. The values and practices introduced by the new science of archaeology played a key role in the formation of a new colonial regime in Egypt. This fact was not lost on Egyptian nationalists, who challenged colonial archaeologists with the claim that they were the direct heirs of the Pharaohs, and therefore the rightful owners and administrators of ancient Egypt's historical sites and artifacts. As this dispute developed, nationalists invented the political and expressive culture of "Pharaonism"—Egypt's response to Europe's Egyptomania. In the process, a significant body of modern, Pharaonist poetry, sculpture, architecture, and film was created by artists and authors who looked to the ancient past for inspiration.
Colla draws on medieval and modern Arabic poetry, novels, and travel accounts; British and French travel writing; the history of archaeology; and the history of European and Egyptian museums and exhibits. The struggle over the ownership of Pharaonic Egypt did not simply pit Egyptian nationalists against European colonial administrators. Egyptian elites found arguments about the appreciation and preservation of ancient objects useful for exerting new forms of control over rural populations and for mobilizing new political parties. Finally, just as the political and expressive culture of Pharaonism proved critical to the formation of new concepts of nationalist identity, it also fueled Islamist opposition to the Egyptian state.
Year: 2007