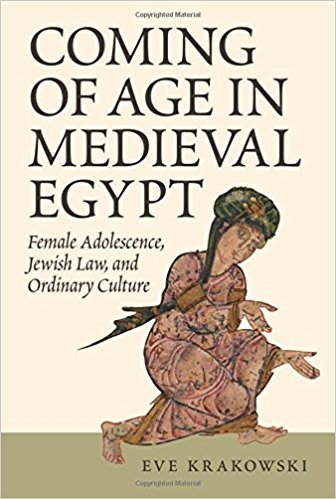 Coming of Age in Medieval Egypt: Female Adolescence, Jewish Law, and Ordinary Culture by Eve Krakowski
Much of what we know about life in the medieval Islamic Middle East comes from texts written to impart religious ideals or to chronicle the movements of great men. How did women participate in the societies these texts describe? What about non-Muslims, whose own religious traditions descended partly from pre-Islamic late antiquity?
Coming of Age in Medieval Egypt approaches these questions through Jewish women's adolescence in Fatimid and Ayyubid Egypt and Syria (c. 969–1250). Using hundreds of everyday papers preserved in the Cairo Geniza, Eve Krakowski follows the lives of girls from different social classes―rich and poor, secluded and physically mobile―as they prepared to marry and become social adults. She argues that the families on whom these girls depended were more varied, fragmented, and fluid than has been thought. Krakowski also suggests a new approach to religious identity in premodern Islamic societies―and to the history of rabbinic Judaism. Through the lens of women's coming-of-age, she demonstrates that even Jews who faithfully observed rabbinic law did not always understand the world in rabbinic terms. By tracing the fault lines between rabbinic legal practice and its practitioners' lives, Krakowski explains how rabbinic Judaism adapted to the Islamic Middle Ages.
Coming of Age in Medieval Egypt offers a new way to understand how women took part in premodern Middle Eastern societies, and how families and religious law worked in the medieval Islamic world.
Year: 2017
Hardcover