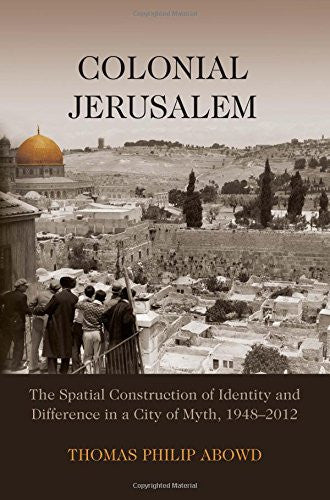 Colonial Jerusalem: The Spatial Construction of Identity and Difference in a City of Myth, 1948-2012 by Thomas Philip Abowd
In one of the few anthropological works focusing on a contemporary Middle Eastern city, Colonial Jerusalem explores a vibrant urban center at the core of the decades-long Palestinian-Israeli conflict. This book shows how colonialism, far from being simply a fixture of the past as is often suggested, remains a crucial component of Palestinian and Israeli realities today. Abowd deftly illuminates everyday life under Israel's long military occupation as it is defined by processes and conditions of "apartness" and separation as Palestinians are increasingly regulated and controlled. Abowd examines how both national communities are progressively divided by walls, checkpoints, and separate road networks in one of the most segregated cities in the world.

Drawing upon recent theories on racial politics, colonialism, and urban spatial dynamics, Colonial Jerusalem analyzes the politics of myth, history, and memory across an urban landscape integral to the national cosmologies of both Palestinians and Israelis and meaningful to all communities.
Year: 2014
Hardcover