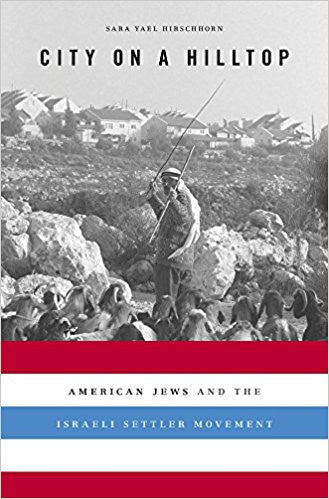 City on a Hilltop: American Jews and the Israeli Settler Movement by Sara Yael Hirshhorn
Since 1967, more than 60,000 Jewish-Americans have settled in the territories captured by the State of Israel during the Six Day War. Comprising 15 percent of the settler population today, these immigrants have established major communities, transformed domestic politics and international relations, and committed shocking acts of terrorism. They demand attention in both Israel and the United States, but little is known about who they are and why they chose to leave America to live at the center of the Israeli-Palestinian conflict.
In this deeply researched, engaging work, Sara Yael Hirschhorn unsettles stereotypes, showing that the 1960s generation who moved to the occupied territories were not messianic zealots or right-wing extremists but idealists engaged in liberal causes. They did not abandon their progressive heritage when they crossed the Green Line. Rather, they saw a historic opportunity to create new communities to serve as a beacon―a "city on a hilltop"―to Jews across the globe. This pioneering vision was realized in their ventures at Yamit in the Sinai and Efrat and Tekoa in the West Bank. Later, the movement mobilized the rhetoric of civil rights to rebrand itself, especially in the wake of the 1994 Hebron massacre perpetrated by Baruch Goldstein, one of their own.
On the fiftieth anniversary of the 1967 war, Hirschhorn illuminates the changing face of the settlements and the clash between liberal values and political realities at the heart of the Israeli-Palestinian conflict.
Year: 2017
Hardcover