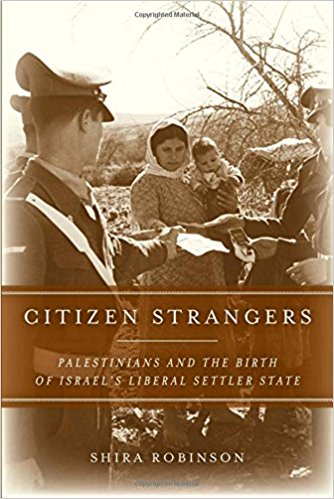 Citizen Strangers: Palestinians and the Birth of Israel's Liberal Settler State by Shira Robinson
Following the 1948 war and the creation of the state of Israel, Palestinian Arabs comprised just fifteen percent of the population but held a much larger portion of its territory. Offered immediate suffrage rights and, in time, citizenship status, they nonetheless found their movement, employment, and civil rights restricted by a draconian military government put in place to facilitate the colonization of their lands. Citizen Strangers traces how Jewish leaders struggled to advance their historic settler project while forced by new international human rights norms to share political power with the very people they sought to uproot.
For the next two decades Palestinians held a paradoxical status in Israel, as citizens of a formally liberal state and subjects of a colonial regime. Neither the state campaign to reduce the size of the Palestinian population nor the formulation of citizenship as a tool of collective exclusion could resolve the government's fundamental dilemma: how to bind indigenous Arab voters to the state while denying them access to its resources. More confounding was the tension between the opposing aspirations of Palestinian political activists. Was it the end of Jewish privilege they were after, or national independence along with the rest of their compatriots in exile? As Shira Robinson shows, these tensions in the state's foundation―between privilege and equality, separatism and inclusion―continue to haunt Israeli society today.
Year: 2013
Paperback