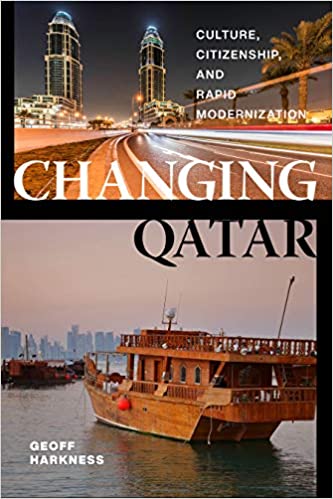 Changing Qatar: Culture, Citizenship, and Rapid Modernization by Geoff Harkness
A cultural study of modern Qatar and how it navigates change and tradition

Qatar, an ambitious country in the Arabian Gulf, grabbed headlines as the first Middle Eastern nation selected to host the FIFA World Cup. As the wealthiest country in the world―and one of the fastest-growing―it is known for its capital, Doha, which boasts a striking, futuristic skyline.

In Changing Qatar, Geoff Harkness takes us beyond the headlines, providing a fresh perspective on modern-day life in the increasingly visible Gulf. Drawing on three years of immersive fieldwork and more than a hundred interviews, he describes a country in transition, one struggling to negotiate the fluid boundaries of culture, tradition, and modernity.

Harkness shows how Qataris reaffirm―and challenge―traditions in many areas of everyday life, from dating and marriage, to clothing and humor, to gender and sports. A cultural study of citizenship in modern Qatar, this book offers an illuminating portrait that cannot be found elsewhere.
Year: 2020