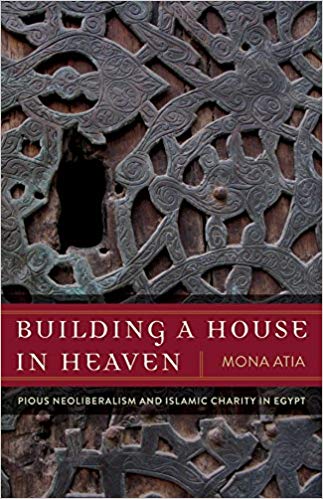 Building a House in Heaven: Pious Neoliberalism and Islamic Charity in Egypt by Mona Atia
Charity is an economic act. This premise underlies a societal transformation—the merging of religious and capitalist impulses that Mona Atia calls "pious neoliberalism." Though the phenomenon spans religious lines, Atia makes the connection between Islam and capitalism to examine the surprising relations between charity and the economy, the state, and religion in the transition from Mubarak-era Egypt.
Mapping the landscape of charity and development in Egypt, Building a House in Heaven reveals the factors that changed the nature of Egyptian charitable practices—the state's intervention in social care and religion, an Islamic revival, intensified economic pressures on the poor, and the subsequent emergence of the private sector as a critical actor in development. She shows how, when individuals from Egypt's private sector felt it necessary to address poverty, they sought to make Islamic charities work as engines of development, a practice that changed the function of charity from distributing goods to empowering the poor. Drawing on interviews with key players, Atia explores the geography of Islamic charities through multiple neighborhoods, ideologies, sources of funding, projects, and wide social networks. Her work shifts between absorbing ethnographic stories of specific organizations and reflections on the patterns that appear across the sector.
An enlightening look at the simultaneous neoliberalization of Islamic charity work and Islamization of neoliberal development, the book also offers an insightful analysis of the political and socioeconomic movements leading up to the uprisings that ended Mubarak's rule and that amplified the importance of not only the Muslim Brotherhood but also the broader forces of Islamic piety and charity.
Year: 2013
Paperback