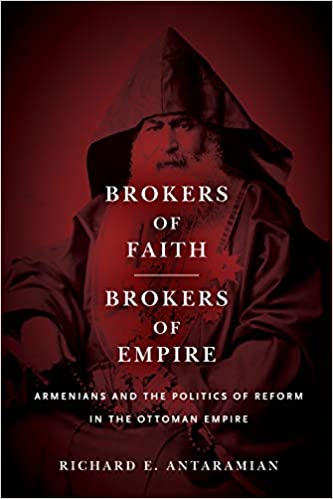 Brokers of Faith, Brokers of Empire: Armenians and the Politics of Reform in the Ottoman Empire by Richard E. Antaramian
The Ottoman Empire enforced imperial rule through its management of diversity. For centuries, non-Muslim religious institutions, such as the Armenian Church, were charged with guaranteeing their flocks' loyalty to the sultan. Rather than being passive subjects, Armenian elites, both the clergy and laity, strategically wove the institutions of the Armenian Church, and thus the Armenian community itself, into the fabric of imperial society. In so doing, Armenian elites became powerful brokers between factions in Ottoman politics―until the politics of nineteenth-century reform changed these relationships.
In Brokers of Faith, Brokers of Empire, Richard E. Antaramian presents a revisionist account of Ottoman reform, relating the contention within the Armenian community to broader imperial politics. Reform afforded Armenians the opportunity to recast themselves as partners of the state, rather than as brokers among factions. And in the course of pursuing such programs, they transformed the community's role in imperial society. As the Ottoman reform program changed how religious difference could be employed in a Muslim empire, Armenian clergymen found themselves enmeshed in high-stakes political and social contests that would have deadly consequences.
Year: 2020
Paperback