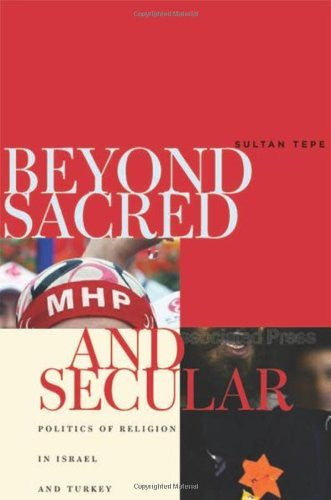 Beyond Sacred and Secular: Politics of Religion in Israel and Turkey by Sultan Tepe
The global rise of political religion is one of the defining and most puzzling characteristics of current world politics. Since the early 1990s, religious parties have achieved stunning electoral victories around the world.

Beyond Sacred and Secular investigates religious politics and its implications for contemporary democracy through a comparison of political parties in Israel and Turkey. While the politics of Judaism and Islam are typically seen as outgrowths of oppositionally different beliefs, Sultan Tepe's comparative inquiry shows how limiting this understanding of religious politics can be. Her cross-country and cross-religion analysis develops a unique approach to identify religious parties' idiosyncratic and shared characteristics without reducing them to simple categories of religious/secular, Judeo-Christian/Islamic, or democratic/antidemocratic. Tepe shows that religious parties in both Israel and Turkey attract broad coalitions of supporters and skillfully inhabit religious and secular worlds simultaneously. They imbue existing traditional ideas with new political messages, blur conventional political lines and allegiances, offer strategic political choices, and exhibit remarkably similar political views.

This book's findings will be especially relevant to those who want to pass beyond rudimentary typologies to better assess religious parties' capacities to undermine and contribute to liberal democracy. The Israeli and Turkish cases open a window to better understand the complexities of religious parties. Ultimately, this book demonstrates that the characteristics of religious political parties—whether Jewish, Muslim, or yet another religion—can be as striking in their similarities as in their differences.
Year: 2008
Hardcover