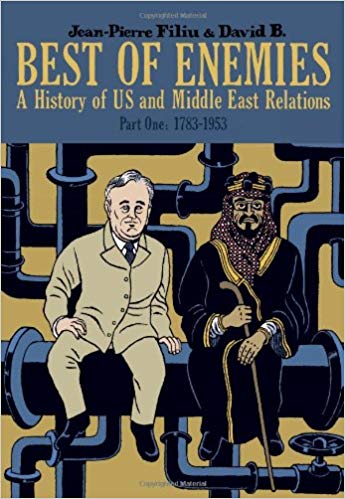 Best of Enemies: A History of US and Middle East Relations, Part One: 1783-1953
"Best of Enemies is surely destined to stand alongside Marjane Satrapi's Persepolis as a graphic history of the Middle East. A must read for anyone interested in learning, or teaching, about the region."—Mark Levine, professor of history at UC-Irvine and author of Heavy Metal Islam
 
In the third volume of their graphic history of US and Middle East relations, Jean-Pierre Filiu and David B. take in the tumultuous period that began with Iraq's invasion of Kuwait in 1990 and ended with Obama's decision, in 2013, not to intervene in Syria.
 
Spanning the First Gulf War, the rise of al-Qaeda, the military response to September 11, and the present conflict in Syria, Best of Enemies: Part Three is propelled by a clash between four presidents and their Middle Eastern antagonists: on the one hand, George H. W. Bush, Bill Clinton, George W. Bush, and Barack Obama; on the other, Saddam Hussein, Osama bin Laden, and Bashar al-Assad. Covering 30 years of conflict and diplomacy, Best of Enemies: Part Three is a breezy and engaging guide to the events that shaped the politics of today.
Year: 2012
Hardcover