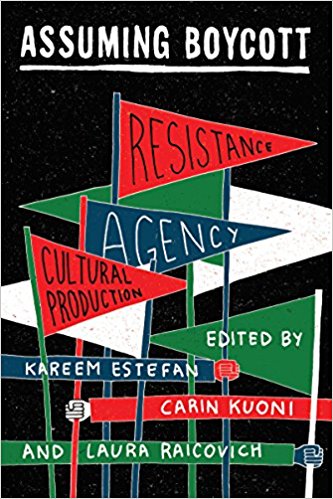 Assuming Boycott: Resistance, Agency and Cultural Production edited by Kareem Estefan, Carin Kuoni, and Laura Raicovich
Street protests are one side of a worldwide citizens' movement. Another side is the increasing use of boycotts, one of the most powerful weapons in the organizer's arsenal: it is an effective and moral lever for civil rights, most notably today in its adoption by the BDS movement.
Since the days of the 19th century Irish land wars, when Irish tenant farmers defied the actions of Captain Charles Boycott and English landlords, "boycott" has been a method that's had an impact time and again. In the 20th century, it notably played central roles in the liberation of India and South Africa and the struggle for civil rights in the U.S.: the 1955 Montgomery bus boycott is generally seen as a turning point in the movement against segregation.
Assuming Boycott is the essential reader for today's creative leaders and cultural practitioners, including original contributions by artists, scholars, activists, critics, curators and writers who examine the historical precedent of South Africa; the current cultural boycott of Israel; freedom of speech and self-censorship; and long-distance activism. It is about consequences and causes of cultural boycott. Far from withdrawal or cynicism, boycott emerges as a productive tool of creative and productive engagement.
Year: 2017
Paperback