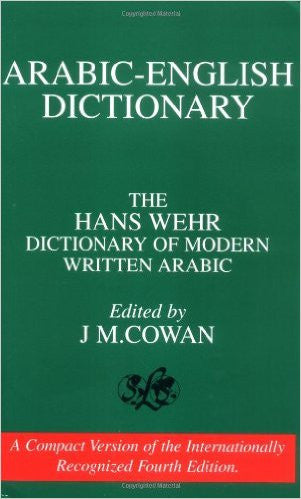 Arabic-English Dictionary: The Hans Wehr Dictionary of Modern Written Arabic by Hans Wehr
"This Dictionary of Modern Written Arabic (fourth edition) has been enlarged and amended with 13,000 new entries. It is the only authorized paperback edition of the famous Hans Wehr Arabic-English Dictionary, edited by J. Milton Cowan. This new edition has thousands of new entries include numerous additions and corrections to the material and presents the results in a single handsome volume.

The author provides a useful introduction in which he discusses, clearly and precisely, the present state of the Arabic language. He points out the situations in which written and spoken varieties of Arabic are used, and remarks on the forces that influenced the development of the lexicon of Modern Arabic. He discusses both the purist movement with its normative tradition, and what might be called the laissez-faire actual usage of writers and journalists under the influence of Western modes of expression, of their everyday colloquial, or both. He then moves on to the problem of local terminology, especially for public institutions, offices, administrative matters, titles, and foods. Although such terms are included for most of the Arab countries, the list is not complete, as indeed the author recognizes (viii); readers of Arabic material characterized by a distinct regional coloring are advised to refer to dialect dictionaries and glossaries."
Year: 1993
Hardcover