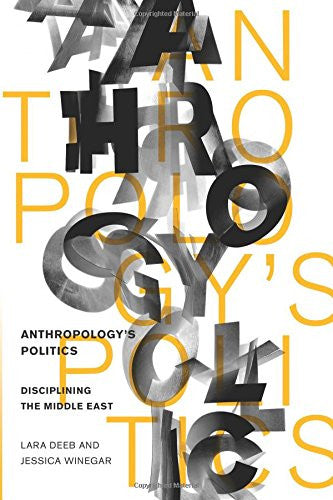 Anthropology's Politics: Disciplining the Middle East by Lara Deeb and Jessica Winegar
U.S. involvement in the Middle East has brought the region into the media spotlight and made it a hot topic in American college classrooms. At the same time, anthropology—a discipline committed to on-the-ground research about everyday lives and social worlds—has increasingly been criticized as "useless" or "biased" by right-wing forces. What happens when the two concerns meet, when such accusations target the researchers and research of a region so central to U.S. military interests?

This book is the first academic study to shed critical light on the political and economic pressures that shape how U.S. scholars research and teach about the Middle East. Lara Deeb and Jessica Winegar show how Middle East politics and U.S. gender and race hierarchies affect scholars across their careers—from the first decisions to conduct research in the tumultuous region, to ongoing politicized pressures from colleagues, students, and outside groups, to hurdles in sharing expertise with the public. They detail how academia, even within anthropology, an assumed "liberal" discipline, is infused with sexism, racism, Islamophobia, and Zionist obstruction of any criticism of the Israeli state. Anthropology's Politics offers a complex portrait of how academic politics ultimately hinders the education of U.S. students and potentially limits the public's access to critical knowledge about the Middle East. 
Year: 2015
Paperback