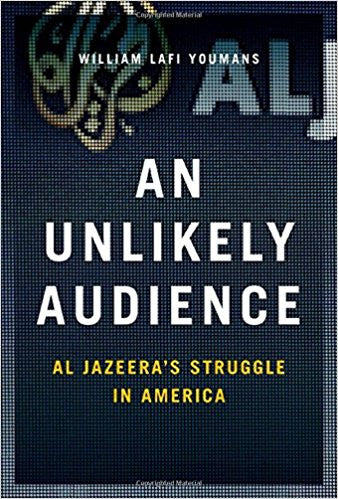 An Unlikely Audience: Al Jazeera's Struggle in America by William Lafi Youmans
In 2006, the Al Jazeera Media Network sought to penetrate the United States media sphere, the world's most influential national market for English language news. These unyielding ambitions surprised those who knew the network as the Arab media service President Bush lambasted as "hateful propaganda" in his 2004 State of the Union address. The world watched skeptically yet curiously as Al Jazeera labored to establish a presence in the famously insular American market.

The network's decade-long struggle included both fleeting successes, like the sudden surge of popular interest during the Arab spring, as well as momentous failures. The April 2016 closure of its $2 billion Al Jazeera America channel was just one of a series of setbacks. An Unlikely Audience investigates the inner workings of a complex news organization fighting to overcome deep obstacles, foster strategic alliances and build its identity in a country notoriously disinterested in international news.

William Youmans argues counter-intuitively that making sense of Al Jazeera's tortured push into the United States as a national news market, actually requires a local lens. He reveals the network's appeal to American audiences by presenting its three independent US-facing subsidiaries in their primary locales of production: Al Jazeera English (AJE) in Washington, DC, Al Jazeera America (AJAM) in New York, and AJ+ in San Francisco. These cities are centers of vital industries-media-politics, commercial TV news and technology, respectively. As Youmans shows, the success of the outlets hinged on the locations in which they operated because Al Jazeera assimilated aspects of their core industries. An Unlikely Audience proves that place is critical to the formation and evolution of multi-national media organizations, despite the rise of communication technologies that many believe make location less relevant.

Mining data from over 50 interviews since 2010, internal documents, and original surveys, the book offers a brisk and authoritative account of the world's most recognizable media-brand and its decade-long ingress into the US - crucial background for Al Jazeera's continued expansion in the United States.
Year: 2017
Hardcover