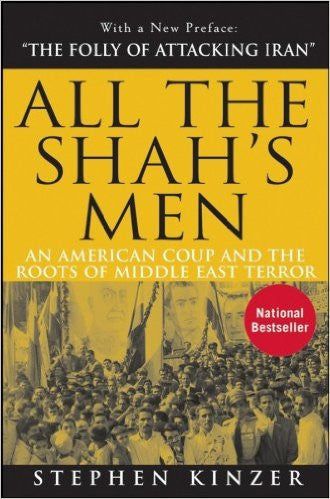 All the Shah's Men: An American Coup and the Roots of Middle East Terror by Stephen Kinzer
What can the United States do to help realize its dream of a peaceful, democratic Middle East? Stephen Kinzer offers a surprising answer in this paradigm-shifting book. Two countries in the region, he argues, are America's logical partners in the twenty-first century: Turkey and Iran.
Besides proposing this new "power triangle," Kinzer also recommends that the United States reshape relations with its two traditional Middle East allies, Israel and Saudi Arabia. This book provides a penetrating, timely critique of America's approach to the world's most volatile region, and offers a startling alternative. Kinzer is a master storyteller with an eye for grand characters and illuminating historical detail.
In this book he introduces us to larger-than-life figures, like a Nebraska schoolteacher who became a martyr to democracy in Iran, a Turkish radical who transformed his country and Islam forever, and a colorful parade of princes, politicians, women of the world, spies, oppressors, liberators, and dreamers. Kinzer's provocative new view of the Middle East is the rare book that will richly entertain while moving a vital policy debate beyond the stale alternatives of the last fifty years.
Year: 2008

Paperback