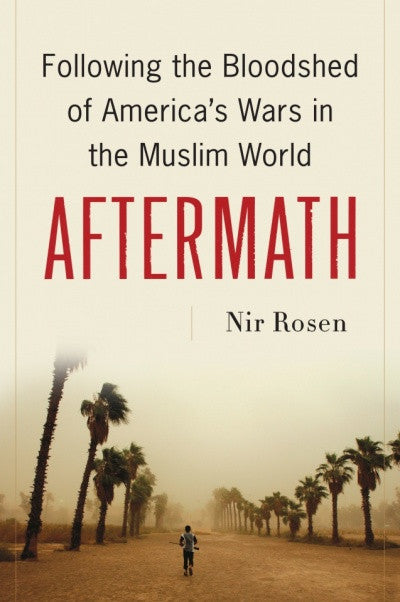 Aftermath: Following the Bloodshed of America's Wars in the Muslim World by Nir Rosen
Nir Rosen's Aftermath, an extraordinary feat of reporting, follows the contagious spread of radicalism and sectarian violence that the U.S. invasion of Iraq and the ensuing civil war have unleashed in the Muslim world.
Rosen—who the Weekly Standard once bitterly complained has "great access to the Baathists and jihadists who make up the Iraqi insurgency"— has spent nearly a decade among warriors and militants who have been challenging American power in the Muslim world. In Aftermath, he tells their story, showing the other side of the U.S. war on terror, traveling from the battle-scarred streets of Baghdad to the alleys, villages, refugee camps, mosques, and killing grounds of Jordan, Syria, Egypt, Lebanon, and finally Afghanistan, where Rosen has a terrifying encounter with the Taliban as their "guest," and witnesses the new Obama surge fizzling in southern Afghanistan.
Rosen was one of the few Westerners to venture inside the mosques of Baghdad to witness the first stirrings of sectarian hatred in the months after the U.S. invasion. He shows how weapons, tactics, and sectarian ideas from the civil war in Iraq penetrated neighboring countries and threatened their stability, especially Lebanon and Jordan, where new jihadist groups mushroomed. Moreover, he shows that the spread of violence at the street level is often the consequence of specific policies hatched in Washington, D.C. Rosen offers a seminal and provocative account of the surge, told from the perspective of U.S. troops on the ground, the Iraqi security forces, Shiite militias and Sunni insurgents that were both allies and adversaries. He also tells the story of what happened to these militias once they outlived their usefulness to the Americans.
Aftermath is both a unique personal history and an unsparing account of what America has wrought in Iraq and the region. The result is a hair- raising, 360-degree view of the modern battlefield its consequent humanitarian catastrophe, and the reality of counterinsurgency.
Year: 2010
Hardcover