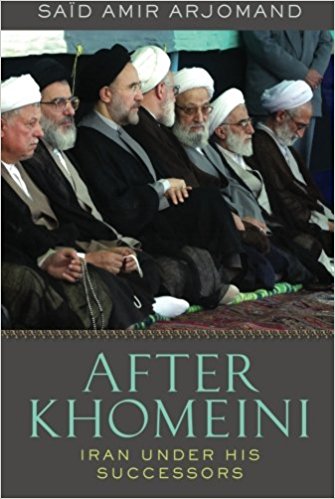 After Khomeini: Iran Under His Successors by Said Amir Arjomand
For many Americans, Iran is our most dangerous enemy--part of George W. Bush's "axis of evil" even before the appearance of Ahmadinejad. But what is the reality? How did Ahmadinejad rise to power, and how much power does he really have? What are the chances of normalizing relations with Iran?

In After Khomeini, Saïd Amir Arjomand paints a subtle and perceptive portrait of contemporary Iran. This work, a sequel to Arjomand's acclaimed The Turban for the Crown, examines Iran under the successors of Ayatollah Khomeini up to the present day. He begins, as the Islamic Republic did, with Khomeini, offering a brilliant capsule biography of the man who masterminded the revolution that overthrew the Shah. Arjomand draws clear distinctions between the moderates of the initial phrase of the revolution, radicals, pragmatists, and hardliners, the latter best exemplified by Mahmud Ahmadinejad. Taking a chronological and thematic approach, he traces the emergence and consolidation of the present system of collective rule by clerical councils and the peaceful transition to dual leadership by the ayatollah as the supreme guide and the subordinate president of the Islamic Republic of Iran. He explains the internal political quarrels among Khomeini's heirs as a struggle over his revolutionary legacy. And he outlines how the ruling clerical elite and the nation's security forces are interdependent politically and economically, speculating on the potential future role of the Revolutionary Guards. Bringing the work up to current political events, Arjomand analyzes Iran's foreign policy as well, including the impact of the fall of Communism on Iran and Ahmadinejad's nuclear policy.

Few countries loom larger in American foreign relations than Iran. In this rich and insightful account, an expert on Iranian society and politics untangles the complexities of a nation still riding the turbulent wake of one of history's great revolutions.
Year: 2012
Paperback