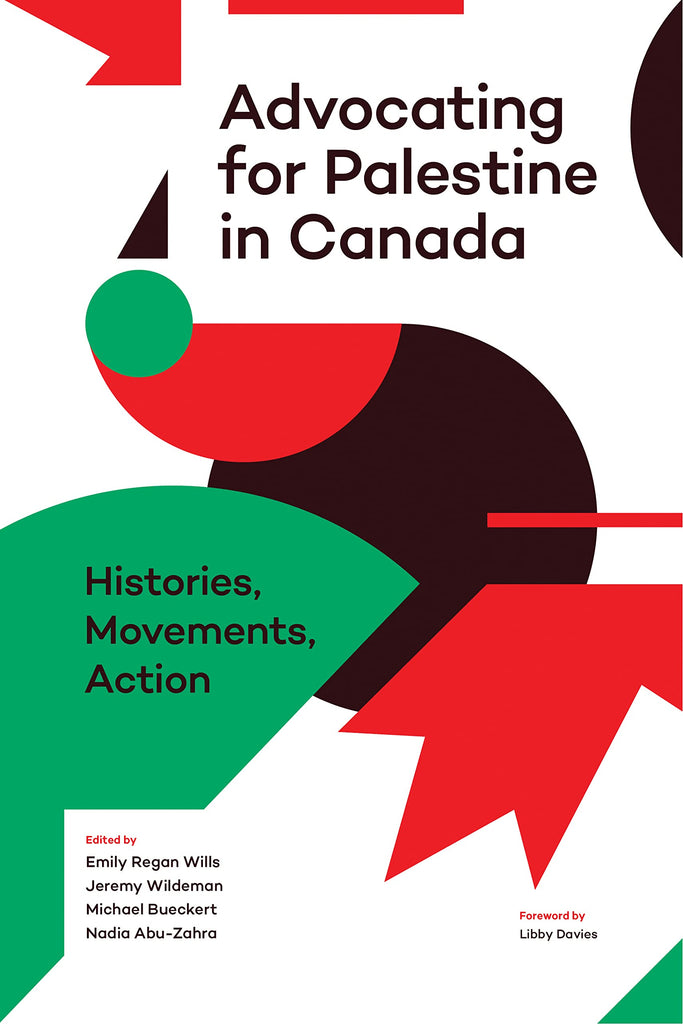 Advocating for Palestine in Canada: Histories, Movements, Action edited by Emily Regan Wills, Jeremy Wildeman, Michael Bueckert, and Nadia Abu-Zahra
Palestine solidarity activism is on the rise and under siege. Led by a coalition of students, labour unions, church groups, and Palestinian and Jewish community organizations, the movement advocating for Palestinian rights is forced to contend with relentless condemnation, legal sanctions, sidelining, and coordinated smear campaigns. Why is it so difficult to advocate for Palestine in Canada? This courageous book grapples with this question through a wide-ranging exploration of Palestine solidarity activism, linking the movement's connections with global struggles against racism, imperialism, and colonialism. Through this indispensable contribution to our understanding of the complex social and historical forces at work, Advocating for Palestine touches on our era's most urgent debates, linking histories and practices of settler colonialism and the meaning of solidarity today to the media's role in shaping public opinion and the relationship between Canadian foreign and domestic policy with the movement's strategy of boycotts and lessons from the South African anti-apartheid movement.

Contributor Bios:

Emily Regan Wills is an associate professor of comparative politics at the University of Ottawa. She is the co-director of the Community Mobilization in Crisis project, which develops and implements innovative multilingual digital pedagogical tools for teaching community mobilization skills in the Middle East and elsewhere.

Jeremy Wildeman is a Fellow at the Human Rights Resource and Education Centre (HRREC), University of Ottawa. He is a scholar of international relations, Middle East politics, Canadian foreign policy, human security and development aid.

Michael Bueckert is Vice President at Canadians for Justice and Peace in the Middle East (CJPME), a national advocacy organization based in Montreal. He has a PhD in Sociology with a specialization in Political Economy from Carleton University; his dissertation explored the opposition to boycott movements.

Contributor Bio:Abu-Zahra, Nadia
Nadia Abu-Zahra is an Associate Professor and Joint Chair in Women's Studies at the University of Ottawa and Carleton University, and a member of the University of Ottawa's Human Rights Research and Education Centre, Centre for Research on Educational and Community Services, and Centre for International Policy Studies.

Aaron Maté is an NYC-based journalist and producer. He hosts the news show Pushback for The Grayzone, and writes regularly for The Nation. In 2019, he was awarded the Izzy Award for outstanding achievement in independent media from Ithaca College. Previously, he was a longtime producer at Democracy Now! and a producer at Al Jazeera English.

Libby Davies has been a social activist for 45 plus years and began as a community organizer in Vancouver's Downtown Eastside in 1972. She was elected to Vancouver City Council for 5 consecutive terms, 1982-1993. As the Member of Parliament for Vancouver East for six consecutive terms, 1997-2015, she became NDP House Leader, (2003-2011) and Deputy Leader (2007-2015). Libby continues to be an outspoken advocate for human rights, housing, peace, and social justice. She was awarded the Order of Canada in 2016.

Libby was appointed to the board of governors of Vancouver Community College in 2018, and serves as Vice Chair. She is also a board member and Vice Chair, of the Portland Hotel Community Services Society (PHS).

She is the author of "Outside In: A Political Memoir" (May 2019, published by Between The Lines, Toronto) and is a frequent public speaker on progressive transformative change and its relationship to politics. Libby is currently writing a new book.


Year: 2022
Paperback
Read our review here!