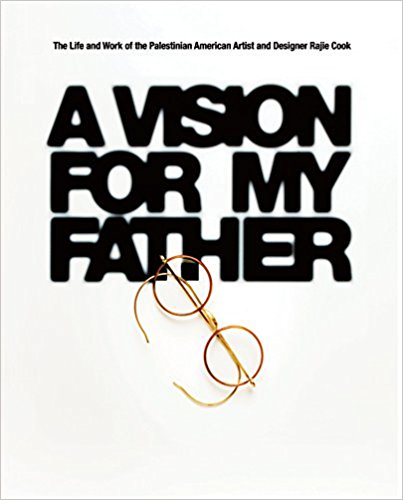 A Vision for My Father: The Life and Work of Palestinian-American Artist and Designer Rajie Cook by Rajie Cook
A remarkable journey into the heart and mind of an acclaimed Palestinian-American graphic designer.
Rajie Cook is the son of Palestinian immigrants Najeeb and Jaleela Cook who came to the US in search of peace and opportunity for themselves and their family. This memoir is a tribute to them, but evolves into a narrative of how their son made his mark on the international stage of graphic design. For Rajie, art is an organic expression of what moves him, his art activism is his gift to the world.

Sight, what we see and what we think we see, is a major theme in this narrative. On one level, Rajie gives sight back to his father who was blinded in the early 1930's by the ravages of cataract. Najeeb could not share in the excitement of Rajie's starting a graphic design firm that was acclaimed for its excellence. Najeeb could not see the symbols Rajie and his partner created which the world relies upon to navigate transportation symbols and public places. He died before seeing his talented son shake the hand of an American president.

Perhaps Najeeb's greatest legacy was his love for Palestine. Rajie has shared his father's love for the Palestinian people, and began to travel to the Middle East.

Now, using his art as his voice, his camera as a partner, Rajie has lifted the veil of what people see or think they see with regard to the Palestinian people. Some of his photographs are disturbing, his experiences equally unsettling because Rajie narrates the truth as he sees it. The pain of the Palestinian people cries out though Rajie's art and activism the--horror of the Occupation, the brutality of life that Palestinian children experience every day. Rajie wants the world to see what he has seen, and like his father before him, yearns for peace to come to this troubled and tortured region. The image of Najeeb sitting by his radio is replaced by the image of Roger working in his studio, both men wishing for a peace that seems forever elusive.

His assemblages, posters, and artwork have been featured in art shows throughout the United States and internationally. Provocative yet truthful, Rajie's vision is recorded in his art. In his own words, My art will be my voice long after I have gone. It will never be silenced.
Year: 2018
Hardcover