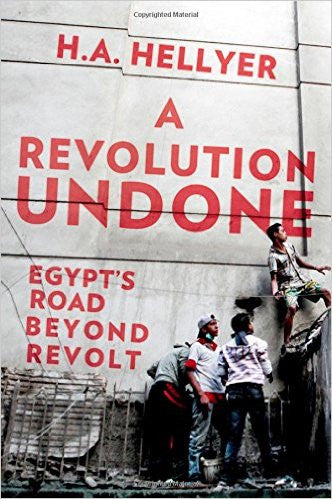 A Revolution Undone: Egypt's Road Beyond Revolt by H.A. Hellyer
Amid the turbulence of the 2011 Arab uprisings, the revolutionary uprising that played out in Cairo's Tahrir Square created high expectations before dashing the hopes of its participants. The upheaval led to a sequence of events in Egypt that scarcely anyone could have predicted, and precious few have understood: five years on, the status of Egypt's unfinished revolution remains shrouded in confusion. Power shifted hands rapidly, first from protesters to the army leadership, then to the politicians of the Muslim Brotherhood, and then back to the army. The politics of the street has given way to the politics of Islamist-military détentes and the undoing of the democratic experiment. Meanwhile, a burgeoning Islamist insurgency occupies the army in Sinai and compounds the nation's sense of uncertainty.

A Revolution Undone blends analysis and narrative, charting Egypt's journey from Tahrir to Sisi from the perspective of an author and analyst who lived it all. H.A. Hellyer brings his first-hand experience to bear in his assessment of Egypt's experiment with protest and democracy. And by scrutinizing Egyptian society and public opinion, Islamism and Islam, the military and government, as well as the West's reaction to events, Hellyer provides a much-needed appraisal of Egypt's future prospects.
Year: 2017
Hardcover