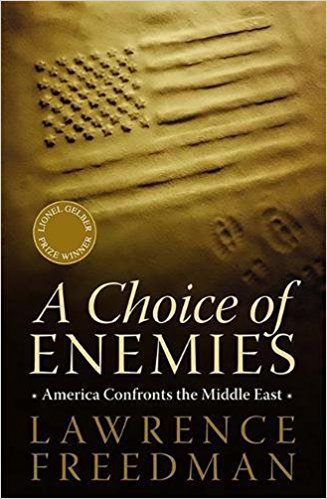 A Choice of Enemies: America Confronts the Middle East by Lawrence Freedman
It is in the Middle East that the U.S. has been made to confront its attitudes on the use of force, the role of allies, and international law. The history of the U.S. in the Middle East, then, becomes an especially revealing mirror on America's view of its role in the wider world.
In this wise, objective, and illuminating history, Lawrence Freedman shows how three key events in 1978–1979 helped establish the foundations for U.S. involvement in the Middle East that would last for thirty years, without offering any straightforward or bloodless exit options: the Camp David summit leading to the Israel–Egypt Treaty; the Iranian Islamic revolution leading to the Shah's departure followed by the hostage crisis; and the socialist revolution in Afghanistan, resulting in the doomed Soviet intervention. Drawing on his considerable expertise, Freedman makes clear how America's strategic choices in those and subsequent crises led us to where we are today.
Year: 2009
Paperback