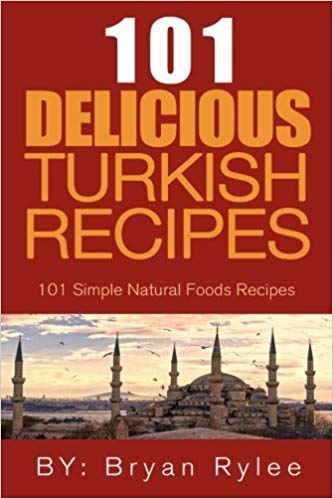 101 Delicious Turkish Recipes: 101 Simple Natural Food Recipes by Bryan Rylee
Do you love the flavours and aromas of Turkish cooking?
Would you like to be able to recreate authentic Turkish recipes in your own home?
Now you can, with this amazing book!
Millions of people holiday in Turkey every year. The sun, culture and history are just some of the reasons for this, but it is with the food that so many people fall in love.
Making the sort of food that is typically Turkish can be a challenge for even accomplished cooks, but with this book, The Spirit of Turkey, you could be making delicious Turkish food for all the family quickly and easily, with dishes like:
Feta borek
Sujuk and eggs fry up
Tabbouleh salad
Bulgur pilaf
Turkish pizza
Turkish lamb and rice soup
Yoghurt and chicken stew
Pistachio baklava
And lots more...
The food of Turkey is rich, colorful and delicious. It rightfully takes its place among the world's great cuisines as it showcases the ancient culture that created it.
Now you don't have to travel across Europe to enjoy the amazing tastes on offer. You can make them all at home with The Spirit of Turkey.