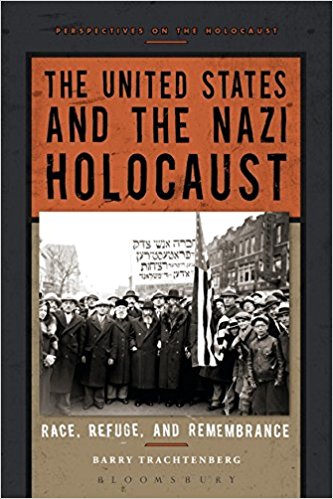 The United States and the Nazi Holocaust: Race, Refuge, and Remembrance by Barry Trachtenburg
The United States and the Nazi Holocaust is an invaluable synthesis of United States policies and attitudes towards the Nazi persecution of European Jewry from 1933 right up to the modern day. The book, which includes 20 illustrations, weaves together a vast body of scholarly literature to bring students of the Holocaust a balanced, readable overview of this complex and often controversial topic. It demonstrates that the United States' response to the rise of Nazism, the refugee crisis it provoked, the Holocaust itself, and its aftermath were-and remain to this day-intricately linked to the ever-shifting racial, economic, and social status of American Jewry.
Using a broad chronological framework, Barry Trachtenberg navigates us through the major themes and events of this period. He discusses the complicated history of the Roosevelt administration's response to the worsening situation of European Jewry in the context of the ambiguous racial status of Jews in Depression and World War II-era America. He examines the post-war decades in America, and discusses, over a series of chapters, how the Holocaust, like American Jewry itself, came to move from the margins to the very center of American awareness. The United States and the Nazi Holocaust considers the reception of Holocaust survivors, post-war trials, film, memoirs, memorials, and the growing field of Holocaust Studies. The reactions of the United States government, the general public, and the Jewish communities of America are all accounted for in this integrated, detailed survey.
Year: 2018
Paperback