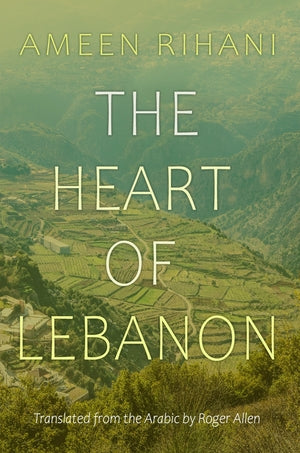 The Heart of Lebanon by Ameen Rihani
When celebrated mahjar writer Ameen Rihani returned to his native Lebanon from his long stay in New York, he set out on nine journeys through the Lebanese countryside, from the rising mountains to the shores of the Mediterranean, to experience and document the land in intimate detail.
Through his travelogue The Heart of Lebanon, Rihani brings his readers along by foot and by mule to explore rural villages like his childhood home of Freike, the flora and fauna of massive cedar forests, and archaeological sites that reveal the history of Lebanon. Meeting goatherds, healers, monks, and more along the way, Rihani offers more than vivid descriptions of the country's sweeping scenery. His candid and often humorous narration captures what he sees as the soul of Lebanon and its people. Allen's fluid translation transports English-language readers to an early twentieth-century rural Lebanon of the writer's time in a way that only Rihani's firsthand account can accomplish.
Translated from the Arabic by Roger Allen
Year: 2021