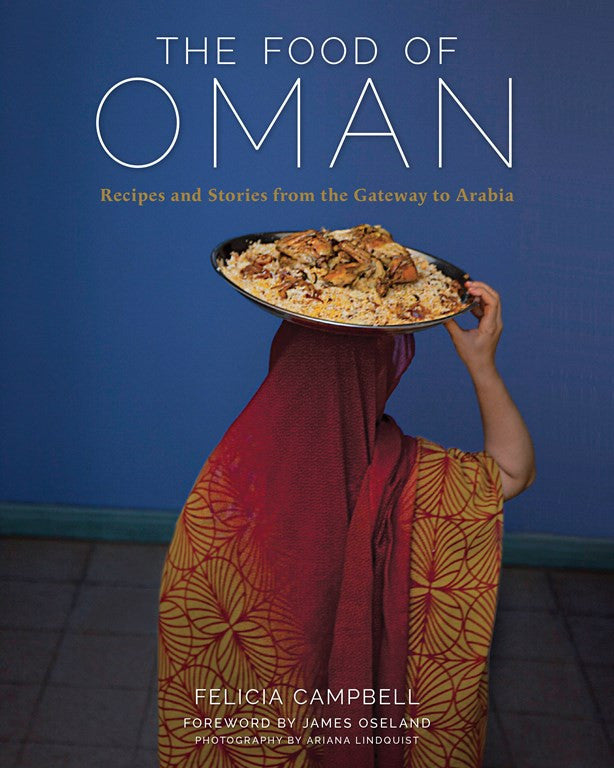 The Food of Oman: Recipes and Stories from the Gateway to Arabia by Felicia Campbell
Featuring rustic Middle Eastern dishes infused with the flavors of East Africa, India, and Persia,
The Food of Oman
presents the delicious diversity of the tiny Arabian Sultanate through 100 recipes, lush photography, and stories from the people behind the food in an immersive introduction to a fascinating, little-known corner of the world.
In the Arabian Gulf, just east of Saudi Arabia and across the sea from Iran, the kitchens of Oman are filled with the enticing, mysterious aroma of a spice bazaar: musky black limes, earthy cloves, warming cinnamon, cumin, and coriander all play against the comforting scent of simmering basmati rice. Beyond these kitchens, the rocky crags of Jabal Akhdar tower, palm trees sway along the coast of Salalah, sand dunes ripple across Sharqiyah, and the calls to prayer echo from minarets throughout urban Muscat. In
The Food of Oman
, American food writer Felicia Campbell invites readers to journey with her into home kitchens, beachside barbeques, royal weddings, and humble teashops. Discover with her the incredible diversity of flavors and cultures in the tiny Sultanate of Oman.
Omani cuisine is rooted in a Bedouin culture of hospitality—using whatever is on hand to feed a wandering stranger or a crowd of friends—and is infused with the rich bounty of interloping seafarers and overland Arabian caravan traders who, over the centuries, brought with them the flavors of East Africa, Persia, Asia, and beyond. In Oman, familiar ingredients mingle in exciting new ways: Zanzibari biryani is scented with rosewater and cloves, seafood soup is enlivened with hot red pepper and turmeric, green bananas are spiked with lime, green chili, and coconut. The recipes in
The Food of Oman
offer cooks a new world of flavors, techniques, and inspiration, while the lush photography and fascinating stories provide an introduction to the culture of a people whose adventurous palates and deep love of feeding and being fed gave rise to this unparalleled cuisine.
Year: 2015