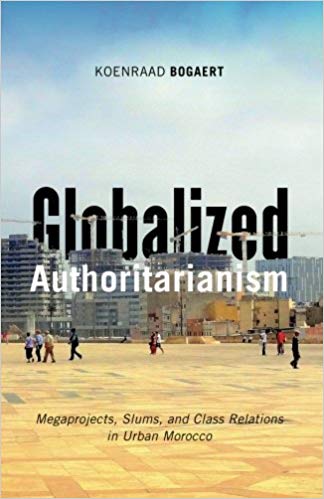 Globalized Authoritarianism: Megaprojects, Slums, and Class Relations in Urban Morocco by Koenraad Bogaert
Over the past thirty years, Morocco's cities have transformed dramatically. To take just one example, Casablanca's medina is now obscured behind skyscrapers that are funded by global capital and encouraged by Morocco's monarchy, which hopes to transform this city into a regional leader of finance and commerce. Such changes have occurred throughout Morocco. Megaprojects are redesigning the cityscapes of Rabat, Tangiers, and Casablanca, turning the nation's urban centers into laboratories of capital accumulation, political dominance, and social control.
In Globalized Authoritarianism, Koenraad Bogaert links more abstract questions of government, globalization, and neoliberalism with concrete changes in the city. Bogaert goes deep beneath the surface of Morocco's urban prosperity to reveal how neoliberal government and the increased connectivity engendered by global capitalism transformed Morocco's leading urban spaces, opening up new sites for capital accumulation, creating enormous class divisions, and enabling new innovations in state authoritarianism. Analyzing these transformations, he argues that economic globalization does not necessarily lead to increased democratization but to authoritarianism with a different face, to a form of authoritarian government that becomes more and more a globalized affair.
Showing how Morocco's experiences have helped produce new forms of globalization, Bogaert offers a bridge between in-depth issues of Middle Eastern studies and broader questions of power, class, and capital as they continue to evolve in the twenty-first century.
Year: 2018
Paperback