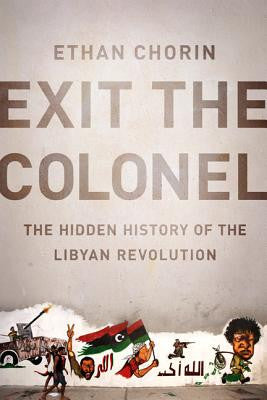 Exit the Colonel: The Hidden History of the Libyan Revolution by Ethan Chorin
In Exit the Colonel, Ethan Chorin, a longtime Middle East scholar and one of the first American diplomats posted to Libya after the lifting of international sanctions, goes well beyond recent reporting on the Arab Spring to link the Libyan uprising to a flawed reform process, egregious human rights abuses, regional disparities, and inconsistent stories spun by Libya and the West to justify the Gaddafi regime's "rehabilitation." Exit the Colonel is based upon extensive interviews with senior US, EU, and Libyan officials, and with rebels and loyalists; a deep reading of local and international media; and significant on-the-ground experience pre- and post-revolution.
The book provides rare and often startling glimpses into the strategies and machinations that brought Gaddafi in from the cold, while encouraging ordinary Libyans to "break the barrier of fear." Chorin also assesses the possibilities and perils for Libya going forward, politically and economically.
Year: 2012
Hardcover