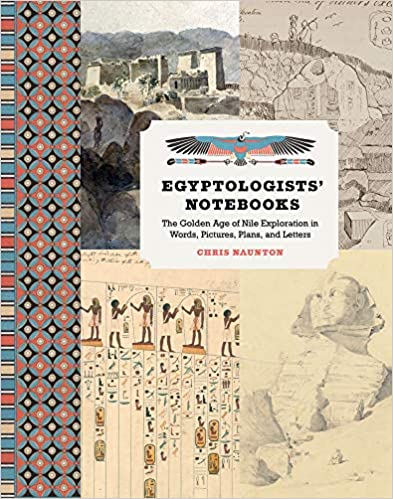 Egyptologists' Notebooks: The Golden Age of Nile Exploration in Words, Pictures, Plans, and Letters by Chris Naunton
A gorgeous presentation of intimate diaries and journals that captures the excitement of the golden age of Egyptology.

For centuries, the ancient ruins of Egypt have provided an endless source of fascination for explorers, antiquarians, archaeologists, and the public. All, from the very earliest travelers, were entranced by the beauty of the landscape and the remains of tombs, temples, and cities consumed by drift sand. Early adventurers were gripped by the urge to capture what they saw in writings, sketches, paintings, and photographs.
 
While it was always the Egyptologists who were in charge, they depended on the assistance of architects, artists, engineers, and photographers. Yet when we read about Flinders Petrie and Norman de Garis Davies, we rarely hear about their wives, Hilda and Nina, or how the work of Amelia Edwards helped to fund their explorations. Only through diaries, letters, and other archival discoveries have we come to realize how important these other partners were. Similarly, the contributions of Egyptians, such as Hassan Effendi Hosni, are only now coming to light.
 
Egyptologists' Notebooks is a visual celebration of Egypt's ancient past, featuring evocative sketches, paintings, and photographs from pioneering explorers' and archaeologists' journals. Reproduced in their original form, they provide intimate, behind-the-scenes access to the archaeological discovery of Egypt.
Year: 2020