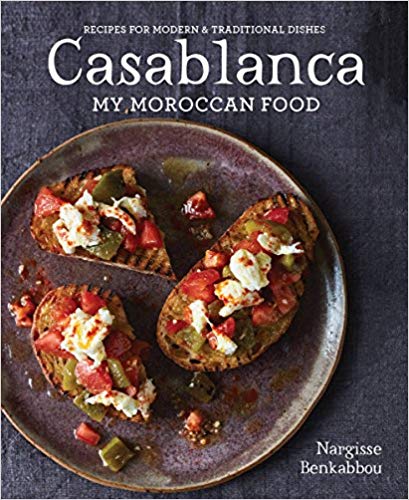 Casablanca: My Moroccan Food by Nargisse Benkabbou
A book that is infused with the flavours of Morocco and is as accessible as it is inspiring. 
-- Nigella Lawson
A native Moroccan shares 100 recipes for the vibrant and delicious dishes of her homeland.
Nargisse Benkabbou grew up in a food-oriented family that nurtured her connection with her roots and country of origin, Morocco. On her popular blog, MyMoroccanFood.com, she shares her family's recipes and her innovative cross-cultural creations.
Casablanca features 100 recipes for simple and satisfying Moroccan meals for family and entertaining. Benkabbou describes the essential elements in Moroccan cuisine and how to make them -- Ras el hanout spice mix, preserved lemons, Harissa paste; scented waters, couscous, preserved lemons, Chermoula, and Moroccan tea. She also introduces the tagine and explains how to use it.
The recipes include:
Starters to Share - Roasted red pepper and preserved lemon salad with butter beans; Serrouda (chickpea dip); Sweet potato and feta maakouda (potato cakes); Grandma's broad bean and zucchini salad
Vegetarian Dishes - Baghrir (pancake) with crème fraiche and chestnut mushrooms; Moroccan eggs Florentine with harissa hollandaise; Root vegetable and prune tagine
Meat - Mama's harira (soup); My grandfather's mechoui (lamb) with yoghurt and mint sauce; Orange zest and turmeric lamb chops
Poultry - Chorba beida (white chicken soup); Chicken, carrot and charred lemon tagine; Spicy chicken livers; Duck and cannellini bean casserole with caraway and dried figs
Seafood - Fragrant seafood and tomato tagine; Merguez-stuffed squid in tomato sauce; Monkfish tagine with apricots, dates and fennel
Bread - Wholemeal mahrash bread; Mkhamer (skillet bread); Seeded harcha ("scone"); Cumin and buttermilk cornbread
Sweets - Pistachio, orange and olive oil flourless loaf cake (gluten-, dairy-free); Ktefa (filo pastry with custard); Ras el hanout carrot cake with cream cheese frosting; Jabane (nougat).
Casablanca will be eagerly welcomed by those familiar with Moroccan food and by adventurous cooks wanting to expand their culinary horizons.