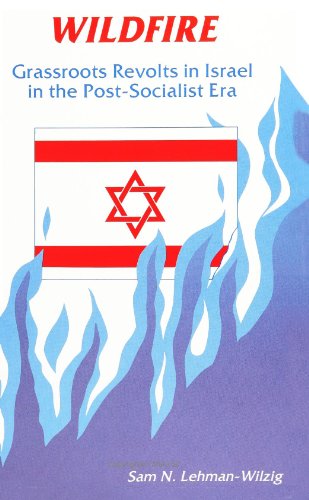 Wildfire: Grassroots Revolts in Israel in the Post-Socialist Era by Sam N. Lehman-Wilzig
Wildfire is a wide-ranging, inter-disciplinary study of the "other side" of Israeli public life. Because the governmental service systems work poorly, and political protest has proved to be largely ineffective, the Israeli public has begun to take matters into their own hands, in effect creating numerous "alternative" service systems in almost all spheres of life.

Lehman-Wilzig describes this phenomenon and analyzes the impact of the most important alternative systems: illegal settlement activity, a huge underground economy, pirate cable TV stations, "gray" education, Black medicine, anti-religious as well as anti-secular activity, and a growing demand for electoral reform and constitutionalization of the Israeli polity.
Year: 1992
Ppaerback
Condition: Very Good