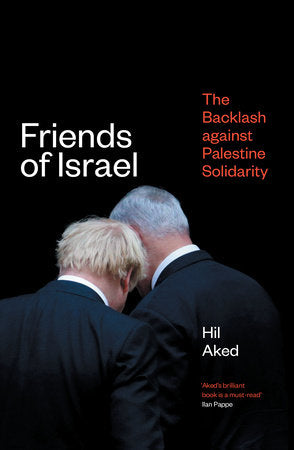 Friends of Israel: The Backlash Against Palestine Solidarity by Hil Aked
Is there such a thing as "the Israel lobby," and how powerful is it really?
Friends of Israel provides a forensically researched account of the activities of Israel's advocates in Britain, showing how they contribute to maintaining Israeli apartheid. The book traces the history and changing fortunes of key actors within the British Zionist movement in the context of the Israeli government's contemporary efforts to repress a rising tide of solidarity with Palestinians expressed through the Boycott Divestment and Sanctions (BDS) movement. Offering a nuanced and politically relevant account of pro-Israel actors' strategies, tactics, and varying levels of success in key arenas of society, it draws parallels with the similar anti-boycott campaign waged by supporters of the erstwhile apartheid regime in South Africa.
By demystifying the actors involved in the Zionist movement, the book provides an anti-racist analysis of the pro-Israel lobby which robustly rebuffs anti-Semitic conspiracies. Sensitively and accessibly written, it emphasises the complicity of British actors - both those in government and in civil society. Drawing on a range of sources including interviews with leading pro-Israel activists and Palestinian rights activists, documents obtained through Freedom of Information requests and archival material, Friends of Israel is a much-needed contribution to Israel/Palestine-related scholarship and a useful resource for the Palestine solidarity movement.
Year: 2023
Paperback
Read the WRMEA review here!