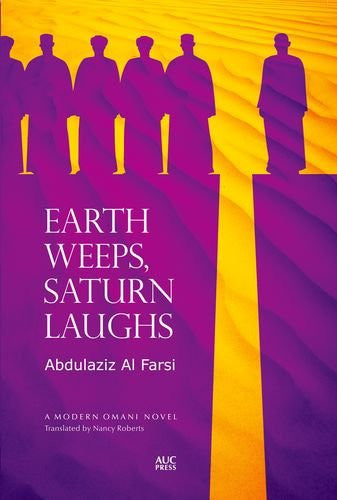 Earth Weeps, Saturn Laughs: An Omani Novel (Modern Omani Novels) by Abdulaziz Al Farsi
Earth Weeps, Saturn Laughs opens with the return of Khalid Bakhit, a government employee, to his hometown in Oman after a time away in the big city, and concludes with his return to the city with a new maturity born of a series of wrenching encounters with reality. Khalid's return home, sparked by his flight from a painful love affair, coincides with events that reveal the force of long-established traditions that have a stranglehold on the town: from racial prejudice, to religious bigotry, to ossified patterns of leadership. Khalid's awakening and transformation are catalyzed by his encounters with a certain "Saturnine poet" who, in the course of chasing after an elusive ode, has stumbled upon this unnamed village. For a period of time "the Saturnine" becomes Khalid's closest companion: listening to his woes, helping him see himself with new eyes, and imparting to him a wisdom from a world beyond untainted by human smallness.

"As the full moon listened in, Walad Sulaymi said, 'Thirty years ago I heard my grandfather say to my father (God have mercy on them both), "If God allows a country to be chastised, He causes everyone who has left it to come back." So here you are again, and with your return, that completes the number of those who left the village and have come back. Mark my words: the chastisement will descend soon.'"
Year: 2013
Paperback