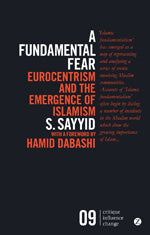 A Fundamental Fear: Eurocentrism and the Emergence of Islamism by Salman Sayyid
A Fundamental Fear was written in 1997, long before 9/11 and the global rise of a new generation of Islamic fundamentalist groups. Its author, S. Sayyid, offered what we recognize now as a prescient warning of a dangerous specter he saw haunting Western civilization. His groundbreaking book offers an analysis of the conditions that have made Islamic fundamentalism possible and provides a provocative account of the ways in which Muslim identities over the last two decades have come to play an increasingly political role in the West.

Still as timely and urgent as when it was originally published, A Fundamental Fear presents the complicated story of why individuals chose to kill and be killed in the name of religion. Sayyid argues that the fear and anxiety aroused by Islamism is not a myth or a simple consequence of terrorism, but it is intricately tied to our experience of the slow collapse of the Western world order. This new edition brings this powerful book to a new readership during a time of continued crisis in the Middle East.
Year: 2015
Paperback