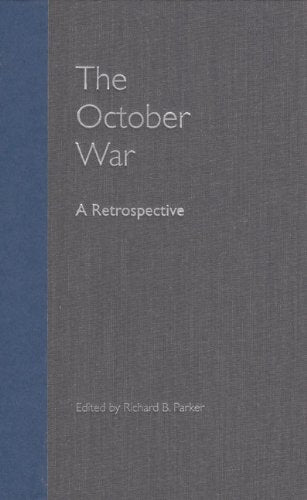 The October War: A Retrospective Edited by Richard B. Parker
The October War provides insiders' views of the politics and diplomacy of events leading up to and following the October, or Yom Kippur, War of 1973 between Egypt and Syria on one hand and Israel on the other, a turning point in the history of the modern Middle East. Offering fascinating insights into attitudes and processes, particularly in the United States but also in Israel and Egypt, the essays present firsthand accounts by senior officials—including U.S. Secretary of Defense James Schlesinger and Israeli ambassador to the United States Simcha Dinitz--and scholars from the United States, Israel, Egypt, Russia, Syria, and Jordan.
This book evolved from a 25th anniversary conference on the war in which representatives of the combatants and their superpower supporters discussed, for the first time, the perceptions, motives, and mistakes of the various parties. These frank, often surprising accounts, interspersed with analytical commentary by scholars in the field, are an important contribution to the historical record and to future policy analysis. Readers will emerge with a new appreciation of the complexity of such questions as whether the war could have been avoided, why it came as such a surprise, and whether the opportunity for peace that developed afterward was fully exploited.
Richard B. Parker, scholar-in-residence at the Middle East Institute in Washington, D.C., was a Foreign Service officer specializing in the Middle East from 1949 to 1980. He served as ambassador to Algeria, Lebanon, and Morocco in the Ford and Carter administrations. He is the author or editor of five books, including The Six-Day War: A Retrospective (UPF, 1996) and The Politics of Miscalculation in the Middle East.
Year: 2001
Hardcover
Condition: Very Good (No Dust Jacket)