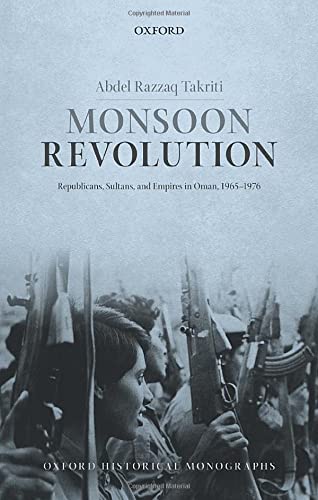 Monsoon Revolution: Republicans, Sultans, and Empires in Oman, 1965-1976 by Abdel Razzaq Takriti
At a time when Arab revolutionary movements are once again dominating the headlines,
Monsoon Revolution
offers a fresh reading of the Arab revolutionary tradition, examining one of its foremost illustrations.
The Dhufar revolution in Oman (1965-1976) was the longest running major armed struggle in the history of the Arabian Peninsula - Britain's last classic colonial war in the region - and one of the highlights of the Cold War in the Middle East.
Monsoon Revolution
retrieves the political, social, and cultural history of that remarkable process. It analyses its causes, course, and outcomes, while uncovering the networks, ideologies, personalities, as well as the regional and global actors that sustained it. Relying upon a wide range of untapped Arab and British archival and oral sources, it revises the modern political history of Oman by revealing the centrality of popular movements in shaping events and outcomes.
Monsoon Revolution
further examines colonial dynamics, narrating the ways through which Sultanic absolutism was constructed by Britain in order to suppress the persistent local revolutionary challenge. A series of landmark mysteries are also solved, including the details of the
1970 coup bringing the current ruler onto the throne.
Contextualising Omani revolution and absolutism, Abdel Razzaq Takriti illustrates how the events that unfolded in Oman during the years 1965-1976 were embedded in broader Arab and international currents. The Sultanate's dependence on global networks of imperial and monarchical solidarity is examined and the fundamental importance of these networks for its own survival is highlighted. On the other side, the ties that bound transnational anti-colonial movements and revolutionary networks are explored, and Dhufar is revealed to be an ideal vantage point from which to demonstrate the centrality of South-South connections in modern Arab history.
Year: 2016
Paperback