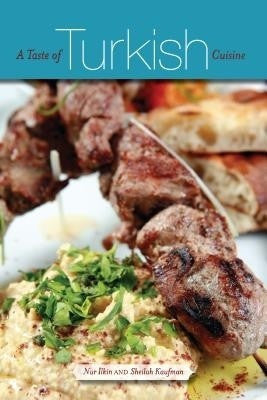 A Taste of Turkish Cuisine by Nur Ilkin and Sheilah Kaufman
Influenced by neighboring cuisines such as Greek, Persian, and even Chinese, Turkish cuisine is uncomplicated yet rich in flavor. Home cooks will enjoy diverse offerings, from the more widely-known dishes like kebabs, baklava, and Turkish coffee, to the lesser-known Eggplant Moussaka, Zeytinyagli Yer Elmasi (Jerusalem Artichokes with Vegetables), or Zebzeli Tavuklu Pilav (Chicken, Green Beans, and Rice with Saffron). There are several recipes for yogurt and yogurt-based sauces, one of Turkey's most important contributions to international cuisine.

With over 180 recipes, A Taste of Turkish Cuisine incorporates fresh and healthful ingredients into delicious appetizers (mezes), soups, salads, entrees, breads, pilafs, vegetable dishes, preserves, yogurts and desserts. This cookbook also includes a brief history of Turkish cuisine, and guides to commonly used ingredients and Turkish cooking terms.
Year: 2013
Paperback